General recommendations:
We recommend the following in order for the photos you upload to reflect clearly and professionally:
File formats: PNG, JPG, JPEG
Size: 25 MB - 750 MB
Resolution: 300dpi or 72dpi
There is no limit to file size, however please be aware that:
Large files (1GB and more) take longer to upload and if your internet connection is slow it might fail;
Small files (1MB and less) will look blurry in full screen preview.
Please note that if you are browsing the website using a slow internet connection or using a VPN service, the images might appear blurry regardless of the resolution and size of the original file uploaded.

When uploading an image via URL, ensure that the URL contains the actual file in the address line, and is publicly available (you can see an image using the URL in private browsing mode).
Note: if you are adding a URL from your private drive, your image won't be visible to the public, since they are behind authentication.

Example of valid URL, here.

Example of invalid URL, here.
Specific recommendations:
Profile photo
We recommend a vertically aligned professional portrait photo, where your face is clearly visible/in focus. We do not recommend using stage images (e.g. in costume and stage makeup).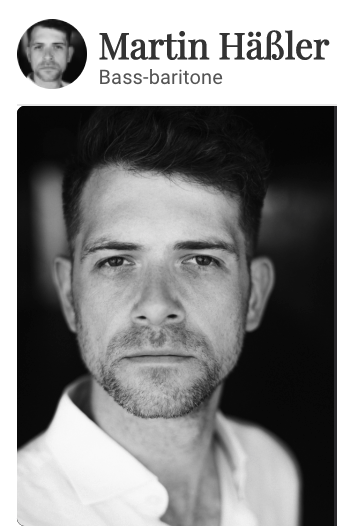 This image shows 2 different sizes of a profile photo. This automatically done after upload to ensure smooth functionality of the website.

Your profile picture is visible on your profile page and in edit, account dropdown, agency roster and artist search. Images uploaded to Operabase are optimised to maintain functionality of the website.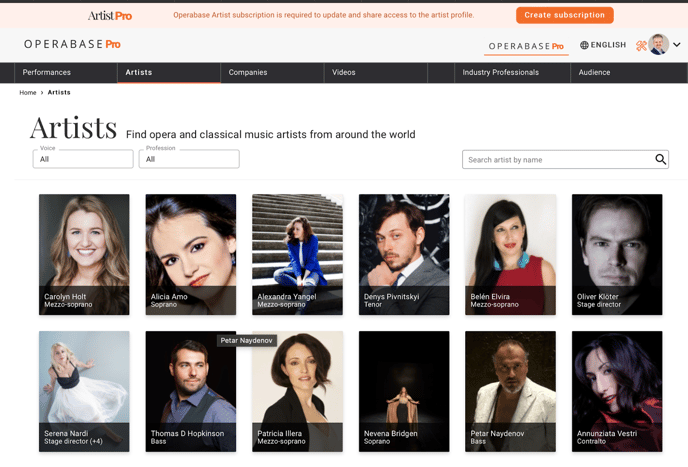 This image shows how your profile photo is visible in artist search.
This image shows how your profile photo is visible in artist search.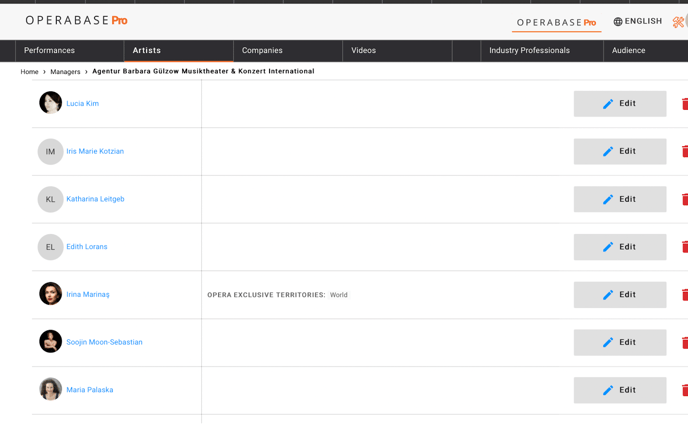 This image shows how your profile photo is visible on an agency roster.

Cover photo
We recommend a horizontally aligned cover or banner photo.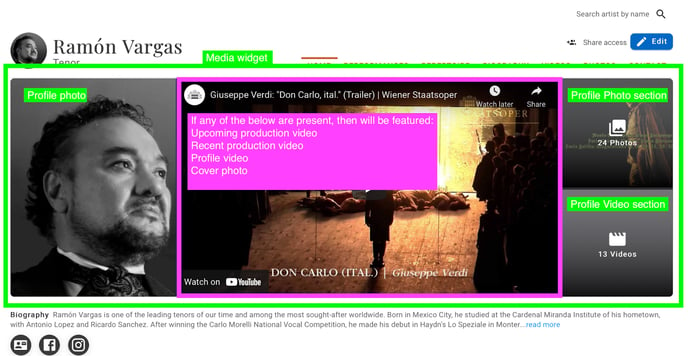 Width: 1024px,
Height: 256px,
Width to Height ratio should be min 4:1
If the aspect ratio falls outside these recommendations, there will be a slight stretch applied to the cover photo. The aspect ratio refers to the relation between width and height of an image. The width is written first then the height. The optimal Operabase cover photo size should have a width to height ratio of 4:1 (i.e. the width of the cover image is 4 times that of the height).

Please note, on the media widget, any video uploaded to your profile or associated with a production you are a part of will be prioritised over any other media content. Thus if you prefer a cover photo to be visible in media widget, in Edit of Cover photo, select Mark cover photo as primary on media widget (see images below).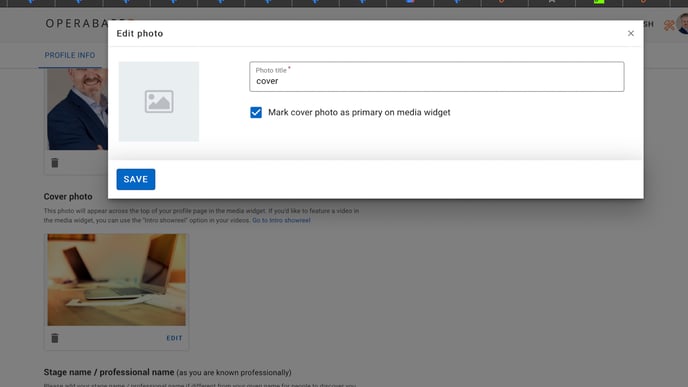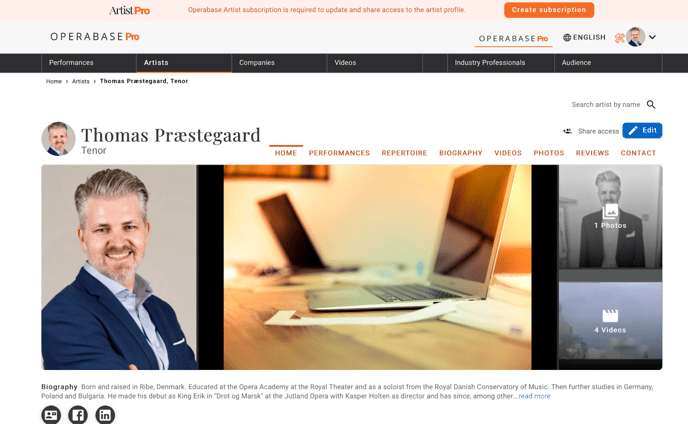 Production poster image, Livestream and VOD posters
For a production poster we recommend using vertically aligned images with a title and highlights of cast members. If one is not available, a more generic banner image or even a photo from the production will work. The production poster will appear on the production page and will help highlight your production on Operabase and associated services.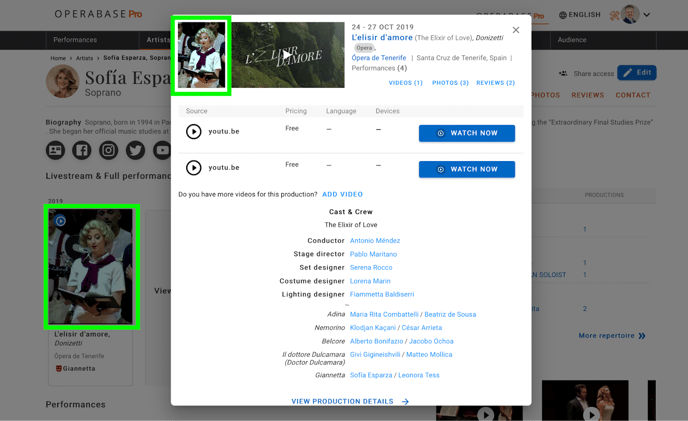 Upload a poster to production via Production edit: